Lifting technology
For the repair or renewal of rails, switches and also engineering structures, such as bridges, culverts of platform facilities, we provide our customers with slewing railroad cranes. With our four railroad slewing cranes of the company Techne Kirow GmbH, we are able to realize effective load movements around the rail infrastructure in short construction times.
With the Multi Tasker type KRC 1200 railroad crane, we can provide our customers with the greatest possible flexibility – thanks to a maximum load capacity of up to 150 t, its use in conventional track and switch construction as well as in bridge construction always guarantees efficient project implementation. The KRC 1200 can be transported at short notice by BZA-free traffic, is quickly ready for use due to short set-up times and can be ideally deployed in the respective projects due to its operational flexibility.
The Multi Tasker type KRC 910 is an all-purpose railroad crane that can also be used economically in track and switch construction as well as in bridge and civil engineering. The KRC 910's maximum load capacity of up to 125 t enables it to be used in switch conversion up to the EW 60-1200 B basic switch form or also in bridge construction, for example for auxiliary bridge work up to 17 m span width and 38 t weight. In the transport position, the KRC 910 can also operate without BZA-application, which means that very short-notice relocations and site deliveries can be ensured, for example in the event of damage or emergency measures as part of permanent way repairs.
Our two KRC 810 track and bridge construction cranes complement our portfolio in lifting technology. There is a wide range of applications and fields of use, for example, in the rehabilitation of superstructures in the case of major replacements of the carriageway; also in control and safety technology projects, such as the erection of switch houses or the setting of special foundations for overhead line systems, or in civil engineering, for example, in the case of platform and culvert renewal with precast elements.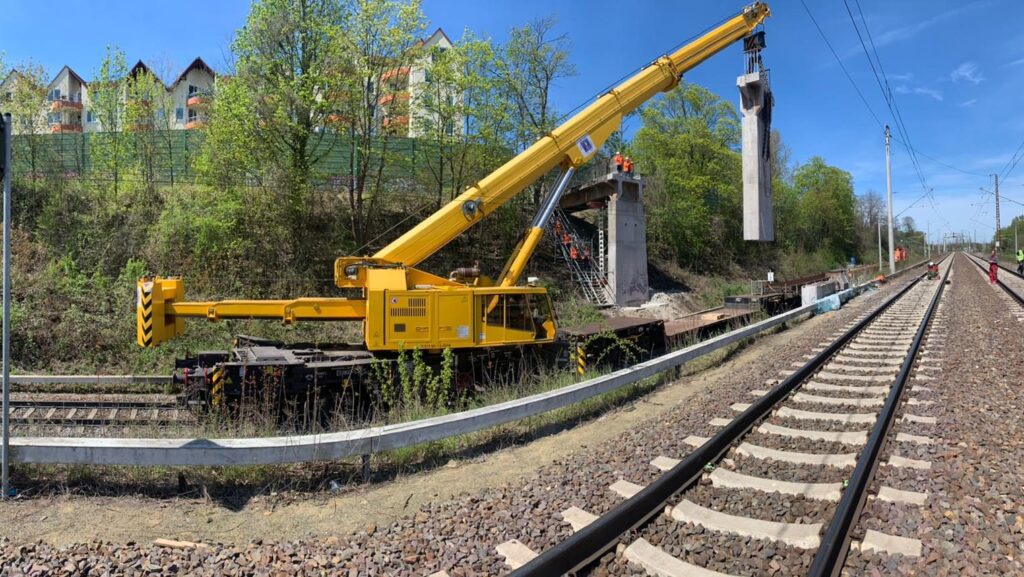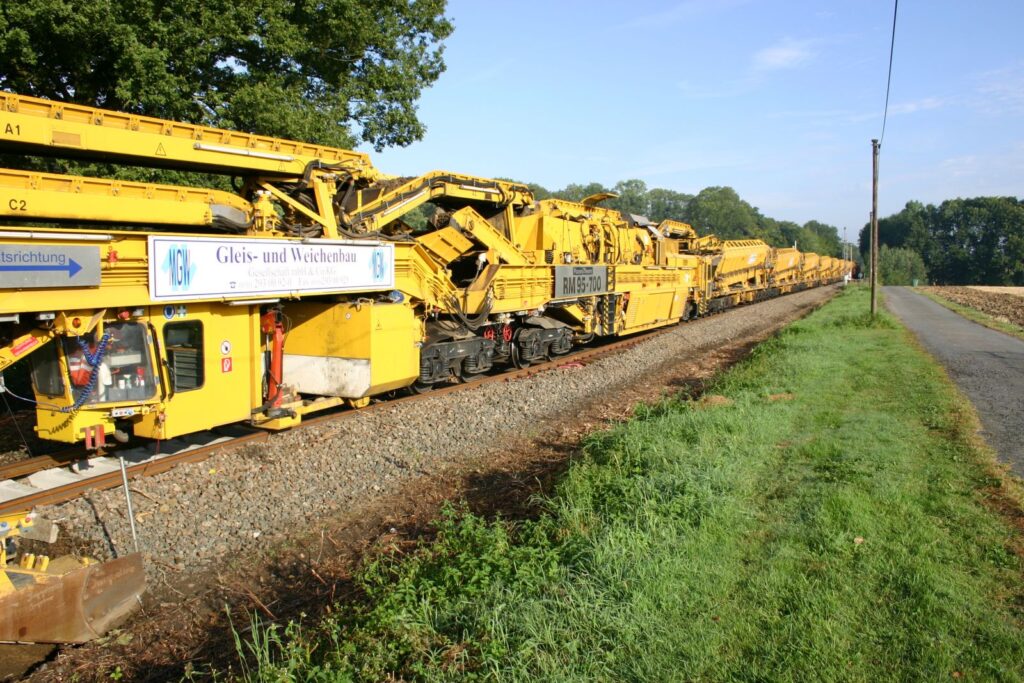 Cleaning Technology
With the development and commissioning of our high-performance RM 95-800 W ballast cleaning machine in fiscal year 2010, we were able to contribute our many years of experience in a new machine concept.
The innovative system of the RM 95-800 W enables quality optimisation of mechanical track-bound ballast cleaning, for example by means of the integrated impact mill and the washing module for washing the ballast, as well as environmentally friendly and resource-saving optimisation of the material cycle, thus reducing construction costs.
The RM 95-800 W high-performance ballast cleaning machine RM 95-800 W is currently unique with this machine concept and extends our existing range of services for mechanical track maintenance.